The pothole in the government's road repair plan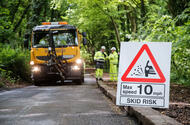 We're issuing a rallying cry to get this pothole problem sorted, once and for all; send in your ideas – here is ours (with help from an industry spokesman)
The average pothole costs around £60 to repair. It's estimated that there are one millon-plus potholes in the UK, that equates to around £60million.
That's not that much, given that it's EVERY pothole in the UK, and the Government's £15.2billion kitty for resurfacing motorways and A-roads is some 253 times larger than the estimated cost of a fixed pothole.
Perhaps the government is doing something wrong, then. Potholes are fixed routinely by councils, and yet there's still a ninth as many of them as there are bicycles in Beijing, depending on your music taste.
Read more: Pothole insurance claim figures released; 10 most affected cars revealed
A spokesman for the Alliance of British Drivers told Autocar that estimating the number of potholes in the UK is an impossible task (good luck fixing them then), but that the roads aren't built correctly – the roads they produce develop potholes. The problem is like
He continued to point out that roads in other countries are often made with six inches of tarmac as their top layer, where UK roads are often only finished with two inches of the black stuff.
So perhaps, instead of building our new roads with the same problematic amount of  tarmac as before, adopt a more European approach and build them deeper, and more durably. After all, we're not the only country to get a little bad weather once in a while.
Read more: Pothole detection system showcased by Jaguar Land Rover
It'll take time to resurface every road in the UK this way, but the money is there, the need is there, and the roads are there. All it needs now is some careful planning – because lord knows the government is truly terrific at that – and patience by UK motorists as they find a detour while their local road is converted into a silky smooth, European-style, six-inch deep tarmac road.
It seems though, that the government is in need of ideas. One man took to graffiti-ing certain shapes around his local potholes to urge the council to fix them. It worked, too. Send in your answers – serious or otherwise – and let's get this problem sorted, Autocar style.
Source: Autocar Online