Brexit: EU single market is 'critical' to UK automotive sector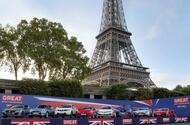 Theresa May's announcement that Britain will leave the EU's single market leaves the automotive sector looking for a deal
Britain leaving the European Union single market could "threaten the viability of the [automotive] industry," according to Society of Motor Manufacturers (SMMT) chief executive Mike Hawes.
In a speech earlier today, Prime Minister Theresa May said that Britain's exit from the EU would require it to leave the free trade zone and that the government would be pushing of the "freest possible trade".
UK car production surpasses 1.6 million in 2016
But in a following statement, Hawes suggested a tariff-free deal was essential in ensuring Britain's car industry would remain competitive.
"We need government to deliver a deal which includes participation in the customs union to help safeguard EU trade, trade that is tariff-free and avoids the non-tariff and regulatory barriers that would jeopardise investment, growth and consumer choice," he said. "Achieving this will not be easy and we must, at all costs, avoid a cliff-edge and reversion to WTO tariffs."
The SMMT has previously stressed the importance of a free-trade deal, and warned of tariffs that could amount to £4.5 billion a year for the UK's car industry.
UK motor industry could face £4.5 billion car tariff
Source: Autocar Online