2017 Mercedes-Benz C-Class gets new engine and S-Class touchpad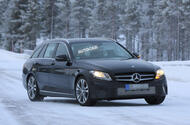 New headlights and mild changes to the bumpers will be joined by improved infotainment; a new 2.0-litre diesel is also due
The facelifted Mercedes-Benz C-Class has been spotted testing in saloon and estate form ahead of the model range's expected launch in 2017.
The latest sighting offers a first glimpse of the updated model's interior, showing that it'll get a new touchpad – which looks similar to the one featured on the 2017 S-Class – as well as a new steering wheel with more controls on it. There's also a redesigned instrument panel, and the covers on the dash-top suggest there are also changes there.
Outside, new LED headlights, similar to those found on the new E-Class, can be seen. A new bumper design also features some updated air intakes and a more swooping design around the grille. There are chrome highlights along the side skirts and rear bumper, but aside from those tweaks the cosmetic changes appear to be minimal.
The E-Class's new 2.0-litre four-cylinder diesel engine will likely replace the incumbent 2.1-litre diesel offered with the current model, but the present car's turbocharged four-cylinder petrol unit will remain.
The updated C-Class saloon and estate sibling will face competition from the likes of the Audi A4, BMW 3 Series and the Jaguar XE when they go on sale, but the new model's not expected to reach the UK until later in 2017.
The facelifted model will likely command a slight premium over the outgoing C-Class thanks to its revisions, which will include updated infotainment, possibly housed within a dual-screen set-up like that used the E-Class in higher-spec models. The current C-Class saloon range starts from £27,665, so a starting figure closer to £28,000 is plausible.
Source: Autocar Online