Used Mercedes | Life with a 190E – part 5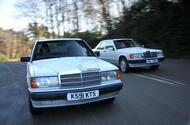 Mercedes sends K591 KTS's fitter, better-looking cousin to stay for the week, but it wasn't all bad news after a glorious back-to-back drive
Are you aware that this year marks the 35th anniversary of Mercedes-Benz revealing its W201 compact executive? Yep, 35 years, and to these eyes at least it's looking better than ever inside and out – although clearly there may be a hint of bias attached to that statement.
A little recap, if you will. After its reveal late in 1982, Mercedes initially offered the W201 as a 190 or 190E, both with a 2.0-litre petrol engine, but with the 'E' featuring electronically controlled injection rather than a carburettor and hence getting more power. Later, in 1983, a 'whisper diesel' 190D model joined the range, although it probably seemed more of a whisper then than it does now. By 1984, things had got a bit more interesting with the introduction of the 16v four-cylinder 2.3-litre petrol which had a giddy 182bhp and a Cosworth cylinder head. 
Then came a six-cylinder petrol in 1987, a sleepy but refined 2.6-litre, although the famous Cosworth four-cylinder 2.5-litre unit of 1988's facelift demands more attention – it's the engine that was tinkered with further before being fitted to the limited-run Evo DTM homologation models.
But then came the big one; in 1990, just before its second facelift, Mercedes' colossal 108bhp 1.8-litre petrol engine arrived, banishing carburettors from Mercedes' cars forever more and being used in precisely zero sporting capacities. A sad tale.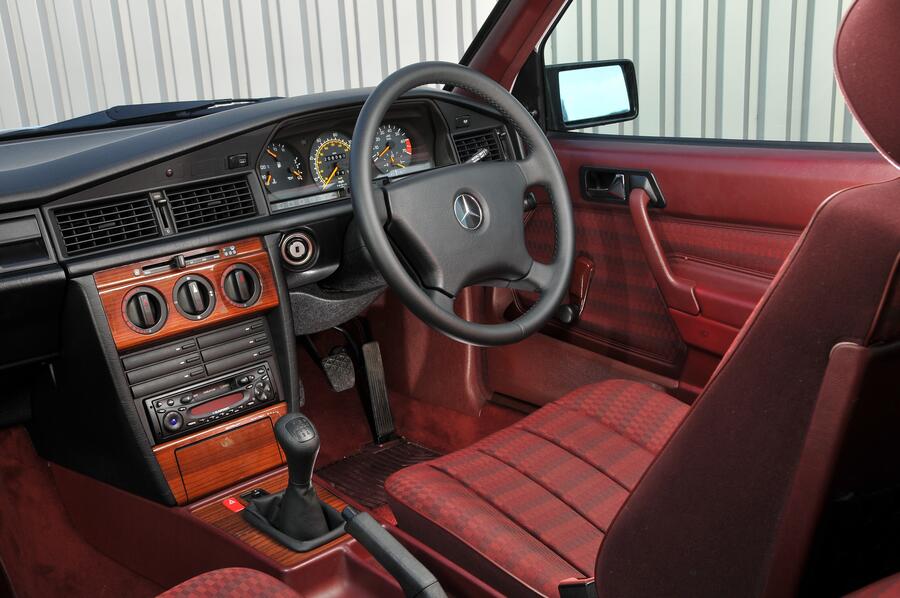 By 1993 and the end of production, nearly 1.9 million cars had left the factory, and to mark that achievement and its anniversary, I thought I'd put a call in to the lovely people at Mercedes-Benz UK, who I happened to know have their very own heritage 190E. And here it is: RIL 7664 (I've no idea), a 2.0-litre model in jaw-dropping white over grey. Okay, okay, I'll stop it now. But in all seriousness, it was a pleasant surprise to see a matching white 190E, if only because it have me a chance to see how my paintwork should look. 
Like mine, it's a late car, having been assembled in 1991. Back then, it would have cost you £20,484 (around £40,000 in today's money) with an exterior temperature gauge (£123.10), fire extinguisher (£92.32) and cruise control (£348.58) taken into account as optional extras. There is one glaring omission, though; an automatic gearbox, this car getting the standard five-speed manual transmission.
There are plenty of stories about Mercedes wildly over-investing in the W201 project, with some reports suggesting around two billion Deutschmarks was spent developing it and opening a brand new factory to support demand in Bremen alongside its original site in Sindelfingen. That investment is entirely believable driving these two cars back-to-back, because despite around 60,000 miles separating them in favour of my 1.8, both felt similarly – and surprisingly – together, some 25 years after rolling out of the factory.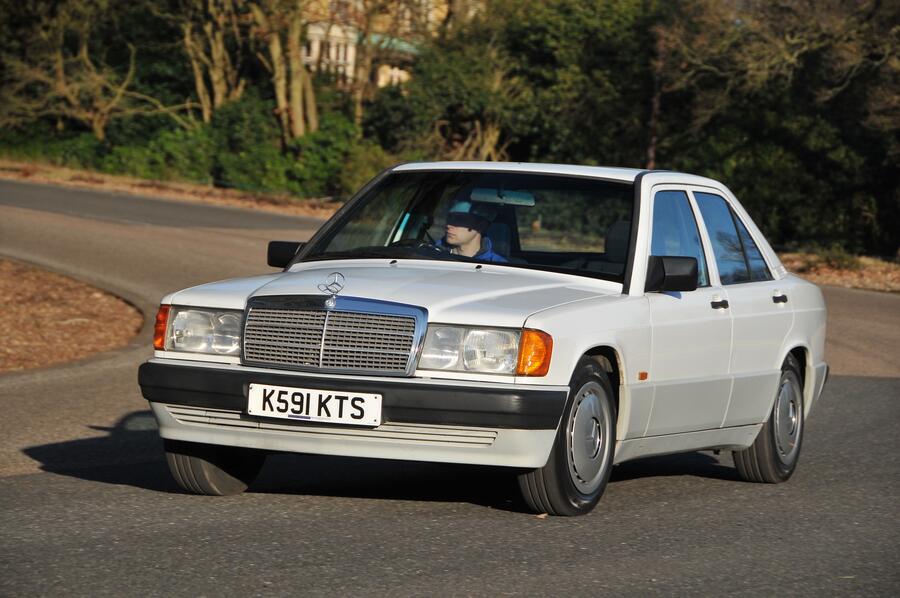 Remember that Mercedes took a risk with designer Bruno Sacco's 'Baby Benz', committing big money to what many initially saw as a small and therefore inherently 'cheap' car. However, it found success by offering expensive-car features such a five-link rear suspension, ABS brakes and airbags, resulting in a drive and options list befitting its premium three-pointed badge.
Or at least that was then. On our drive, neither felt particularly, er, sharp. Together, in terms of high-speed refinement and build quality yes, but not particularly involving by modern standards. Still, with 224bhp between us, colleague Vicky Parrott (a former 2.0 owner herself) and I agreed it was best to focus on the cars' ride anyway, which is nothing short of extraordinary given their 30-year-old chassis design. In truth, the 2.0 just had the edge on comfort, grip and noise levels fitted with its more expensive Continental tyres, but there are genuinely noisier, less pliant compact execs than either on sale today.
We also agreed that there wasn't much between the 1.8 and 2.0 in terms of performance; both pulled with decent urgency at low revs and felt borderline (definitely borderline) spritely up at their redlines. Much easier to justify is the automatic gearbox, which despite being a simple four-speed job, is infinitely preferable to the heritage car's rubbery, low-throw manual change and vague clutch.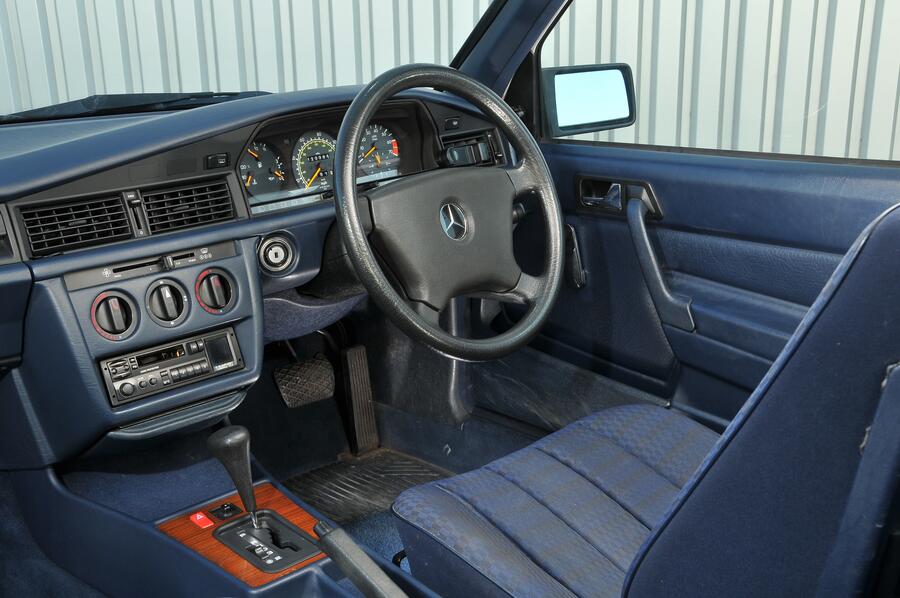 I'll leave interior preference to you, but for me, it's the 1.8's blue that works better than the 2.0's red. However, there's no denying that both display a boldness the likes of which isn't seen in the equivalent class today. Bold, yes, but somehow still classy I think, and driving at night sat in near-darkness reminds you just how little light is given off from either cars' fuss-free dashboards. 
On balance, then, and despite my early attempts to persuade my colleagues otherwise, even I'll admit Mercedes' heritage car is clearly the nicer car, all things considered. Which doesn't sound surprising, until you learn it was bought for half the price of mine and hasn't had the nut and bolt restoration from Mercedes UK you might expect. It's had cosmetic work, sure, but they promise this isn't the result of thousands of pounds' worth of painstaking work. 
And that's really the point. The 190E was one of the first attempts at compact quality and luxury, something we take for granted with cars such as the Mini 5-door, Mercedes-Benz A-Class, Audi A3 and BMW 1 Series in 2017. It isn't particularly sexy to behold (sorry Bruno), nor is it the last word in handling prowess in these forms, but it is a superbly rounded 'classic' available in good numbers for relatively little cash. And, at 35, I'd wager few other car subjected to such heavy use will be looking quite as fresh today. 
Read part 1 HERE
Read part 2 HERE
Read part 3 HERE
Read part 4 HERE
Source: Autocar Online