Pininfarina Fittipaldi EF7 Vision Gran Turismo supercar due at Geneva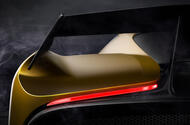 Two-time F1 and Indy 500 champ Emerson Fittipaldi teams up with Italian design house to produce new supercar
A supercar called the Pininfarina Fittipaldi EF7 Vision Gran Turismo will be revealed at the Geneva motor show this month.
Developed by two-time F1 and Indy 500 champ Emerson Fittipaldi and Italian design house Pininfarina, the model has been previewed in a single image that shows the left rear.
A large rear wing can be seen, backing up comments from Pininfarina, which suggest it will be a hardcore track-focused supercar.
"[Fittipaldi's] sole mission was to apply all his track knowledge on creating a new experience that will elevate the driving ability of all supercar enthusiasts from around the world," said a spokesman for the company.
The car will be produced in a small production run of a yet to be confirmed total, and it will be added to Playstation's Gran Turismo series for digital download.
More information for the model will be released at its reveal on the 7 March.
Pininfarina H2 Speed – hydrogen sports car revealed at 2016 Geneva show
Source: Autocar Online