On track in a Formula 3 car at Silverstone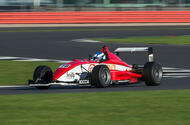 The British Monoposto series is a relatively low-cost way to enjoy the thrills of slicks 'n' wings racing. We try a top-class Mono F3 Dallara
Racing is expensive. Even Formula Ford, a series developed in the late 1960s to provide an affordable entry point for young drivers, has been forced into the stratosphere, with a full season costing anywhere between £150,000 and £300,000.
Thankfully, there are a number of domestic series that allow club racers to enjoy the thrills of motorsport for a fraction of the cost. One of these is the MotorSport Vision Racing-run Monoposto (Italian for 'single-seater') Championship, which promises cost-effective and competitive racing for a variety of single-seat race cars.
The top class, Mono F3, features a mix of ex-Formula 3 cars and BARC Formula Renaults. Front-running team Absolute Media invited us to have a go in driver Chris Hodgen's top-spec Dallara F304.
THE SERIES
The Monoposto Championship visits seven tracks, including Oulton Park, Donington Park and Silverstone, between March and September. We're testing on Silverstone's short but demanding National circuit.
Dallara to produce KTM X-Bow rivalling road car
The series is split into seven classes, ranging from the smallestcapacity Mono Moto cars to Mono F3, which includes a mix of full-fat F3 cars and BARC Formula Renaults.
THE CARS
Despite being run at club level, Mono F3 cars remain top-level racing machines. Our Dallara F304 started life in the Asian F3 championship, but since then it has been fully rebuilt from the ground up by Hodgen and Enigma Motorsport.
The build cost is close to £50,000, but a competitive car can be had for close to half that. Competitors can choose to run either a 2.0-litre Vauxhall 16V or Toyota 3S-GE motor.
With 200bhp and weighing just 490kg, the Dallara's performance is comparable to that of a current Formula Renault 2.0, so it's quick enough to be a challenge but approachable enough for newcomers.
Porsche 911 Turbo S vs Formula 4 car
THE TEST
There's nothing quite like climbing into the cockpit of a pukka singleseater. At first, it feels intimidating and restrictive: the seat pinches your shoulders, your legs are forced against the sides of the chassis and side visibility is virtually nonexistent. Even the driving position – reclined on your back with your legs up high – doesn't feel conducive to driving fast. But that all changes as you head out on track – or it should.
Despite conditions looking perfect from our cosy pit garage, the mercury is hovering around 4deg C, the sun is blindingly low and the circuit is covered in a film of dew. Ever the optimists, we decide to run slicks.
As we're called to the grid for the 9am practice session, I'm still acquainting myself with my surroundings: sequential shift on the right, a digital tacho up front and a green starter button on the beautiful carbonfibre dash. Push it and the 2.0-litre engine starts with a ferocity that belies its humble origins.
A light flywheel and heavy clutch mean smooth getaways are a challenge, but once under way, the quickshifter makes changing up and down through the six-speed gearbox a breeze. That allows you to focus on getting the tyres warmed up, which, as it turns out, isn't easy. Grip is at a premium, so I gently roll into the power – but not gently enough.
Before even a lap is completed, I'm facing the wrong way and feeling slightly embarrassed. Bugger.
A number of other drivers are falling foul of the conditions, so we come into the pits and swap to softer and more predictable wets. After a couple of laps on those, the pace picks up and the Dallara responds with an immediacy and precision that can't be found in machines sporting lights and numberplates.
The steering is fabulously precise, and despite having serious levels of aerodynamic grip, it's still possible to adopt unseemly angles on the exits of Becketts and Luffield. That said, keeping everything in a straight line is the quickest way around a circuit, and soon I'm pushing my braking points deeper and picking up the throttle earlier. It's addictive and challenging, and by the end of the session the wet rubber is reaching its limit on the drying track. Time to move back to slicks – or so I thought.
There's a night-and-day difference between wets and full racing slicks with the latter producing truly absurd levels of grip. It's genuinely astounding just how much speed can be carried on entry and how soon it's possible to get on the throttle on the exit. Faster corners become a test of bravery, while slower ones are a test of neck strength. It would take some time for my brain to assimilate the process sufficiently for it to become routine, and I didn't achieve it on my short stint behind the wheel.
Back in the pits, we go over the on-board footage and mull over the data, looking at where the car could have gone faster. Even as the Dallara is being loaded away, I'm itching to get back behind the wheel, something that perfectly encapsulates what's so fantastic about this series. Slick tyres and aero can't be mastered in a day; it's all about patience and progression – things that Mono F3 requires by the bucketload.
Clearly I've been bitten by the racing bug, and bitten hard. Perhaps Autocar is interested in forming a racing team. Mr Editor Burt?
Source: Autocar Online