2017 Ford Fiesta ST officially revealed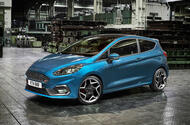 Ford's new hot supermini will outpace the current model with a 197bhp 1.5-litre triple
The latest Ford Fiesta ST hot hatch has been revealed, which matches the performance of the brand's current range-topping ST200 model. The new ST hits 62mph from rest in 6.7sec — 0.2sec faster than the outgoing Fiesta ST.
To be unveiled officially at the Geneva motor show in March, the Fiesta ST remains an important halo model for Ford, particularly in the UK, where its Fiesta supermini continues to dominate car sales. It is in its eighth consecutive year at the top of the car sales rankings.
2017 Ford Fiesta ST: will a three-pot do the job?
The third-generation Fiesta ST is the first to feature Ford's new, 197bhp three-cylinder 1.5-litre Ecoboost petrol engine. It also introduces three drive modes, which adjust engine, steering and stability controls. There are more customisation options than previously, too.
"Next-generation Fiesta ST customers will benefit from innovations developed by Ford Performance for the Ford GT supercar and Focus RS hot hatch, including fuel injection and drive mode technologies," said Ford Performance boss Dave Pericak.
Ford of Europe product boss Joe Bakaj added that the new model will "deliver the most versatile, fun, engaging and rewarding Fiesta ST driving experience yet".
Sitting alongside the well-received 1.0-litre Ecoboost used across the Ford range, the 1.5-litre engine has 214lb ft and uses turbocharging, high-pressure fuel injection and twin independent variable cam timing, all of which delivers "optimised performance and fuel efficiency", according to Ford. A new turbocharger features an optimised turbine design to build boost pressure more quickly and to minimise lag, according to the car maker.
The engine also features cylinder deactivation technology, a world first for a three-cylinder engine but increasingly common on bigger engines and used frequently on Volkswagen Group TSI petrol units. The move will help improve fuel efficiency by shutting down one cylinder when full capacity power isn't needed, such as when cruising with little demand on the engine.
A major new addition for the Fiesta ST is the introduction of three drive modes: Normal, Sport and Track.
Normal mode is the default setting, where all systems, including the traction control and electronic stability control, (ESC) are configured to give a natural driving feel.
In Sport mode, engine mapping and throttle pedal response are sharpened and there's more "driving feedback", says Ford. Sport mode also creates more noise, through Ford's Electronic Sound Enhancement technology and the opening of the active exhaust noise control valve, both of which heighten the exhaust note and engine noise within the cabin.
In Track mode, Ford says all of the vehicle's dynamics are tuned for the fastest possible lap times, traction control is disabled and electronic stability control is set to wideslip mode for circuit driving.
ESC offers drivers a choice of three modes — full system intervention, wide-slip mode with limited intervention and full system deactivation.
The ST's chassis also uses torque vectoring to improve roadholding and reduce understeer by applying braking force to the inside front wheel when cornering.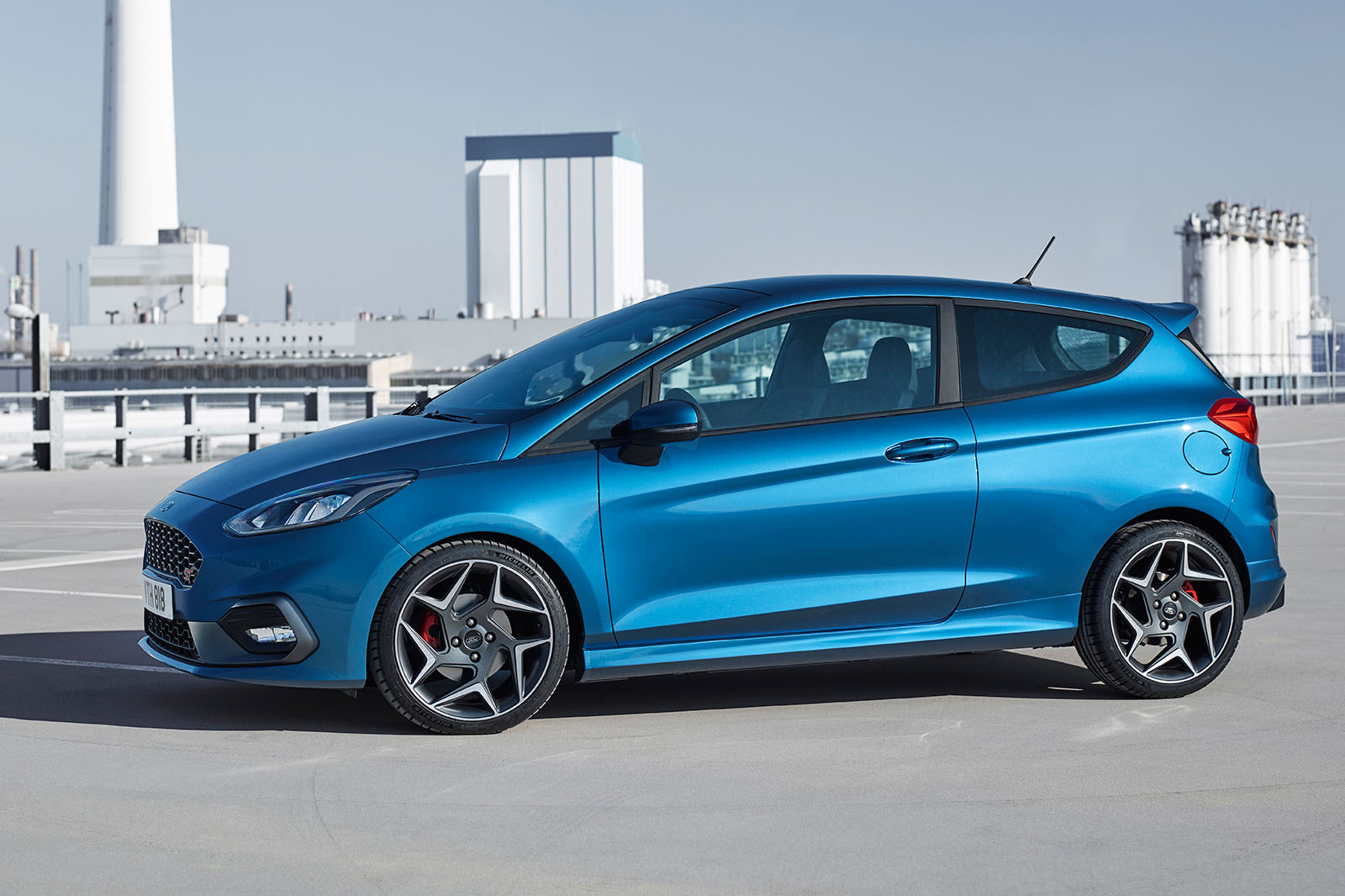 Available in three-door and five-door versions, echoing the current ST, the car's exterior design includes a "race-carinspired" mesh grille, large rear wing and exclusive 18in alloy wheels, as well as a new Liquid Blue paint colour.
Inside there are Recaro seats and a flat-bottomed steering wheel. Customers can choose from a range of trims for the gearlever, steering wheel and door pulls, as well as a number of styling packs.
Ford's latest infotainment system, Sync3, also features. It uses a tablet-like touchscreen up to 8.0in in size that can be operated with pinch and swipe gestures. The ST will also offer a high-end B&O Play sound system, first announced on the standard Fiesta late last year.
The new Fiesta ST goes on sale early next year and is expected to be priced slightly higher than the outgoing model, which starts at £18,145.
Ford video
Source: Autocar Online