Remembering Roger Becker – the legendary Lotus project engineer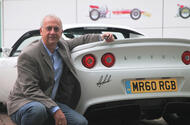 Roger Becker has passed away at the age of 71; he worked on the likes of the Elise, Evora and a rather famous white Esprit
It doesn't happen very often, but just a few companies have chassis engineers so skilled that they become a legend within their own industry. Ferrari had Dario Benuzzi, Lamborghini Valentino Balboni. Today both Jaguar and Land Rover are blessed still to be able to call upon the services of Mike Cross.
But of them all and at least to me, Roger Becker was the most revered of all. And I'm writing this now because Roger has just died at the age of 71, and using his first name because I was lucky enough to know him a little bit.
Roger Becker was project engineering director at Lotus for 43 years and seven months, joining in 1966 when the original Elan was still in production, retiring once he'd completed work on the Evora. In that time, and while helped by many (including Jochen Rindt's F1 team-mate, John Miles), Roger became ultimately responsible for the way all Lotus road cars felt when they reached production.
And while we might choose to criticise any given Lotus for any number of valid reasons, to my knowledge being rubbish to drive has never been among them. For their feel, their balance and poise, Lotuses were and remain the best. And more than any other single figure, we and Lotus have Roger to thank for that.
When he joined, Roger was simply an assembly line worker, but Colin Chapman soon recognised his skills and put him to work on the vehicle development team, which was working on the twin-cam Europa at the time. After that, he developed cars that have have since become part of Lotus iconography – the Esprit and Elise among them.
Of course, the work we will never know about includes the countless engineering programmes that other manufacturers brought to Lotus to sort out, many doubtless lured by the knowledge that no chassis project could be in better hands than his.
As a man, Becker was genial to a fault and able to draw upon an entire library of stories from his decades in the business. Most famous was his moment in the spotlight driving a rather famous white Esprit in the Bond film The Spy Who Loved Me.
To begin with, his job was simply to deliver the Esprit to Sardinia for filming. But the official stunt driver couldn't get the most from it, so when the director called for it to be delivered to its next location, Roger drove it up the hill like only Lotus's finest test driver could, to the evident amazement of director John Glen. He spent the next seven weeks doubling for the other Roger, Roger Moore, in every action scene to feature the car, at least before it turned into a submarine.
When he retired, Lotus produced a small series of 'Roger Becker Special Edition' Elises and Exiges, featuring Becker's favourite specification for each car – a fitting farewell to one of the most important road car engineers of the past 50 years.
Roger may be gone, but his work will be remembered for decades to come. And in the meantime, his mantle has been inherited by his no less talented son Matt, who worked alongside his father from 1988 until his retirement in 2010, left Lotus at the end of 2014 as chief test and development engineer and went to become chief vehicle attribute engineer at Aston Martin shortly thereafter. So for those wondering why their DB11s ride and handle as well as they do, they have a Becker to thank for it. A chip off the old block, if ever there was one.
Source: Autocar Online