Pininfarina H600 concept previewed before Geneva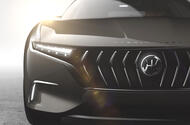 Italian design house will showcase the H600 concept with Hong Kong-based Hybrid Kinetic Group
The Pininfarina H600 has been previewed ahead of its reveal at the Geneva motor show with the Hybrid Kinetic Group.
The Italian design house, which is thought to be plotting a production EV sports car, has designed and manufactured the concept for the Hong Kong-based electric vehicle (EV) company as part of a new technical collaboration, which is worth over £55 million.
Italian coachbuilders: why it's not the end of the road
No technical information has been released, but an electric or petrol-electric drivetrain is expected. The inclusion of a large front grille, which features 10 curving slats and extends out into slim headlights, suggests the latter is likely.
An image of the car's dashboard shows a central infotainment touchscreen, digital instrument display cluster and flat-bottomed steering wheel. The cabin looks to feature both leather and wood trim.
Pininfarina CEO Silvio Pietro Angori said "Hybrid Kinetic has chosen to cooperate with the Pininfarina Group thanks to the set of skills and technologies in the field of sustainable mobility that we have developed over several years.
"This agreement confirms the primacy of our Company in the world of automotive design, engineering and production of small series at a time of great change in the automotive world".
Pininfarina and Hong Kong-based Hybrid Kinetic Group's partnership will last for 46 months. Among the Hong Kong company's portfolio is an electric bus and a car that can be fuelled with bio-alcohol, propane and natural gas.
Pininfarina, which was acquired by Indian automotive giant Mahindra last year, will also be showcasing a sports car concept at Geneva developed with Formula 1 champion and Indy 500 winner Emerson Fittipaldi.
Source: Autocar Online