Alpina B3 S and B4 S – power boosted to 434bhp in new range-toppers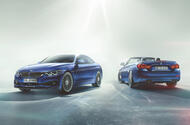 S variants also produce 443lb ft of torque and can reach 190mph
The Alpina B3 S and B4 S Biturbo models have been launched with more powerful 3.0-litre straight-six engines that produce 434bhp and 443lb ft of torque.
That gives the models 9bhp and 37lb ft more output than BMW's M3 and M4 models, and enables the B4 S to accelerate from 0-62mph in 4.2sec, with the B3 S taking a tenth longer. Top speed for both models is 190mph.
The extra performance comes thanks to two new Alpina turbochargers and a new high-performance cooling system with an external water cooler and external oil cooler, which have grown in capacity by more than 15 % and 35 % respectively.
The new system helps torque arrive at 2000rpm; it remains at peak output until 6000rpm. The engine comes mated to a ZF eight-speed automatic gearbox in both variants, and breathes through an Akrapovič stainless steel exhaust system that weigths less than BMW's equivelent.
The B3 S and B4 S come in rear or all-wheel drive forms. The B3 S is available in saloon and Touring guises; the B4 S comes in coupé or convertible bodystyles.
Alpina is yet to confirm pricing and on-sale dates, but both models are expected to arrive around the middle of 2017.
Source: Autocar Online