Promoted: the All-new SEAT Ibiza at Geneva – LIVE coverage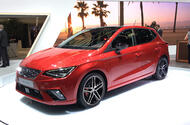 Special live coverage – everything you need to know about the newest version of SEAT's supermini
Welcome to Autocar's special promoted coverage of SEAT's activities at the Geneva Motor Show.
We're reporting live from the Barcelona firm's stand in the Palexpo Convention Centre from the two press days of the show, with live updates, photos and videos.
SEAT will again have a major presence at Geneva, headlined by the all-new Ibiza supermini. The firm will also be showcasing the stylish new Leon CUPRA, and some exciting concepts that are part of its recent push to incorporate digital technology into cars.
SEAT has also invited a small number of passionate Ibiza owners to Geneva to see the new car for themselves. We'll be chatting to SEAT's two UK ambassadors at regular points throughout the two days to get their take on the all-new Ibiza and everything else going on.
We hope you enjoy the coverage. If you want to get involved, you can share your views on social media using the hashtag #SEATgeneva.
To learn more about the new Ibiza, click here.
Sign up to be the first to know more about the new Ibiza here.
To learn more about the new Leon CUPRA, click here.
07.47: SEAT's stand at the Geneva Motor Show is located in Hall Two of the Palexpo convention centre.
The SEAT stand features both the new Ibiza and the Leon CUPRA, split diagonally into two sections (a nod to the Avinguda Diagonal that runs through the heart of SEAT's hometown of Barcelona). Top fact: if you look closely, the avenue is also represented with a diagonal stripe on SEAT's logo.
The Ibiza side of the stand features six examples of the fifth generation of SEAT's supermini, showcasing the various trim levels that will be available at launch. We'll take a closer look at the car, and the trim levels, later.
While the Ibiza side is a celebration of Barcelona's vibrancy, the Leon CUPRA side of the stand takes a little inspiration from racing circuits – showcasing the powerful performance aspects of the machine. We'll have more information on the Leon CUPRA later.
SEAT is also showcasing some innovative technology on the stand, which visitors to the show will be able to try out. That includes an innovative 3D car configurator, which uses Oculus and Kinect technology to let users spec up a car in virtual reality.
We'll take a closer look at some of the other elements of the stand over the next two days. If that tempts you to consider a visit, the Geneva Motor Show public days run from March 9-19, with tickets available from here. The Palexpo is located within walking distance of Geneva Airport, so it's possible to visit the show in a day trip from the UK.
Source: Autocar Online