Geneva motor show 2017 – our star cars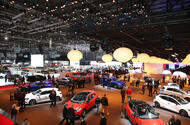 This year's Swiss show has brought us electric pods, supercars, back-to-basics sports cars and more. These are the cars we liked most
The Geneva motor show is now in full swing and all of the main cars have now been revealed.
This year's show has brought us everything from an electric pod to a back-to-basics sports car. We run through some of our favourites from Switzerland's 2017 event – they're listed below in no particular order.
Geneva report, news and gallery
Julian Rendell – BMW 5 Series Touring
Seeing the new version of a car you drive is a sweet (and rare) moment at a motor show. So as the driver of an F11 BMW 520d Touring, the new G31 model gets my thumbs up: premium looks inside and out and family practical boot. Hopefully it steers and rides with aplomb.
Greg Kable – Mercedes-AMG GT Concept
You really need to see the five-door GT up close to really appreciate the step change Mercedes-AMG has taken with the long and low fastback. With its svelte styling, powerful new hybrid system delivering torque inducing electric boosting, four-wheel drive with drift control and 50:50 weight distribution, it promises to deliver a driving experience beyond that even of the sublime new four door E63, with which it shares elements of its platform. If the upcoming production version, due out in 2019, manages to capture the spirit of the concept, it can't but be a winner. Porsche you have been warned.
Rachel Burgess – Peugeot Instinct
An self-driving model which actually looks like a real – and handsome – car. How refreshing. The exterior design showcases original styling including a 3D-printed grille and a camera incorporated into the LED front lights, the latter of which will make production. Let's hope this is a new era for Peugeot design.
Mark Tisshaw – Ford Fiesta ST
If you have the current ST and then drive this, you will sell your car." So says the car's development boss Matthias Tonn. He was in charge of the old ST, ST200 and Focus RS500, and knows his onions. I'd normally dismiss such a line as folly, yet not with his track record or CV. We drive it in June…
Darren Moss – Volvo XC60
Forgive me for taking the conservative choice here, but the new XC60 could be all the car you'll ever need. It's stylish, spacious, safe and should cost less than £30k. What more do you really want?
Sam Sheehan – Porsche 911 GT3
A naturally aspirated flat-six that redlines at 9000rpm and is mated to a manual gearbox. Oh yes. Thank you Porsche for listening to customers and creating what could well be one of the most viscerally engaging driver's cars produced yet. Thankfully this one's not being made in limited numbers, too.
Jim Holder – Range Rover Velar
The fact it was revealed a week before the Geneva motor show made not a jot of difference – the Velar was a style-led triumph to behold once again. Little wonder there was a queue of company bosses from rival firms lining up to admire it, both inside and out.
Richard Bremner – Tata Racemo
A refreshing change from Geneva's carpet of supercars, being promisingly small and wieldy. Industry-first MoFlex sandwich construction and 187bhp from a 1.2 turbo triple should yield an entertaining power-to-weight stat. The Racemo is from Tata Motors' new Tamo sub-brand, makes Indian sale in 2018 and will hopefully appear here.
John Howell – Alpine B5
Knowing just how good the G30 BMW 5 Series is, that's a fantastic basis for Alpina to begin. And the prospect of 600bhp for the new B5 in a chassis tuned by the excellent engineers at Buchloe fills me with glee, so I cannot wait to see what magic they have produced.
Andrew Frankel – Alpine A110
I bumped into Gordon Murray and asked him which car had impressed him most. 'Alpine' was his instant reply. Weighs barely more than a tonne, has 252bhp and looks great. It now just needs to deliver on the promise of those looks and that spec in the way the Alfa 4C never quite managed.           
Steve Cropley – Renault Zoe e-sport
My favourite car has to be Renault's super-fast Zoe e-sport EV concept. I know it's only got a duration of 20-30 minutes at full steam- and then takes 10hr to charge   – but it looks fab and must be ridiculously quick with 463bhp on tap. Perfect for my favourite motor sport code of hill climbing: raced a standard car on exotic rubber at Prescott a couple of years ago. This one would slaughter the opposition!
Matt Prior – Lamborghini Huracán Performante
There are more usable sports cars out there. There are less ridiculous ones, more suited to our times and how we use them. But I just want to know what a 640bhp car and set of tyres that can lap a circuit that quickly are like.
2017 Geneva motor show video – the 14 cars you must see
Source: Autocar Online