Tata Motors to partner with Volkswagen and Skoda for new Indian product range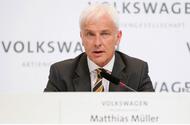 Matthias Müller, Volkswagen Group CEO, reportedly signed an agreement with Tata
The deal will allow Volkswagen and Skoda to make a bigger impact in the Indian market; official announcement expected on Friday
Tata Motors has reached a deal with Volkswagen and Skoda to develop a new range of products, according to Autocar India.
Matthias Müller, CEO of the Volkswagen Group, and Guenter Butschek, managing director of Tata Motors, reportedly signed a memorandum of understanding on Wednesday at the Geneva motor show ahead of an official announcement, which is expected on 10 March.
The partnership has been under discussion for more than a year, with Volkswagen's MQB-A platform suggested as the possible shareable architecture. However, it was deemed too expensive for the Indian market, so instead it's thought that Tata will use its own Advanced Modular Platform (AMP) to spawn a range of products as part of the alliance.
Tata will focus on engine development, because the Volkswagen Group's units are too expensive, and it is thought to be interested in using Volkswagen's electrical technology as well.
The vehicles produced will target the Indian market, allowing Volkswagen and Skoda the only real possibility of making a meaningful sales impact in a country that is notoriously difficult to crack for non-domestic manufacturers. The deal will also allow Tata to save costs in developing its new platform.
Source: Autocar Online