2019 Mercedes GLB to face Audi Q3 with G-Class styling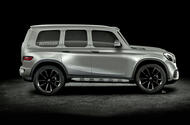 2019 Mercedes GLB imagined by Autocar
New compact SUV will mix old-school styling cues with contemporary design touches when it goes on sale in two years' time
Mercedes-Benz has accelerated development of its long-mooted GLB, a heritage-themed SUV that will rival the Audi Q3 and BMW X1 more directly than the existing GLA.
The move is part of Mercedes' plan to retain sales momentum in the lucrative premium compact car class.
The GLB will be part of a future eight-strong family of compact models announced by Mercedes chairman Dieter Zetsche at the Detroit motor show in January. The new high-riding model will slot into the Mercedes line-up above the existing GLA and below the GLC. Its likely starting price will be around £32,000 when it goes on sale in 2019.
The GLB is one of three new models confirmed as future additions to the existing fivestrong Mercedes compact car line-up. It joins a new four-door A-Class saloon, which will be previewed as a concept car at the Shanghai motor show in April, and an as yet unknown model, although one possibility is a dedicated coupé in the mould of the Audi TT. The new line-up will kick off in early 2018 with the launch of the new fourth-generation A-Class.
The new GLB SUV is known under the internal codename X247 and is said to draw heavily on the well-received Ener-G-Force concept seen at the 2015 Los Angeles show.
The GLB combines styling cues inspired by the tough military vehicle design of the 38-year-old G-Class with more contemporary flourishes from the 2014 G-Code concept.
Buyers will be able to choose between a series of optional styling packages, including a rugged-looking off-road appearance, with extra cladding and increased ride height, according to insiders privy to the final design.
Chosen by Mercedes board members over an alternative long-wheelbase B-Class, the standard GLB earmarked for sale in the UK is set to be around 4600mm in length, which is 180mm longer than the recently facelifted GLA.
The GLB is based around a version of Mercedes' MFA platform that will be reworked to offer greater production flexibility and lower weight than today's structure. The new SUV will be offered with a choice of two wheelbases, with either a five-seat or a seven-seat layout, in a move mirroring that of the Q3, X1 and Volkswagen Tiguan.
Details remain scarce with production more than two years away, but sources suggest the long-wheelbase variant, which extends to almost 4800mm, may be sold only in selected markets, such as China and the US.
Inside, the new GLB is expected to share its dashboard and appointments, including a new Comand 6.0 touchscreen infotainment system, with other new compact Mercedes models, including the fourth-gen A-Class, third-gen B-Class, second-gen CLA and CLA Shooting Brake and the new A-Class saloon.
The GLB's engine line-up will feature an updated range of Mercedes and Renault-Nissan-sourced four-cylinder petrol and diesel units spanning 160bhp in an entrylevel model to more than 300bhp in an AMG-badged flagship. Also planned is a plug-in petrol-electric hybrid variant with modest zero-emission capability. 
Source: Autocar Online