Aston Martin plots mid-engined 488 rival for 2021 launch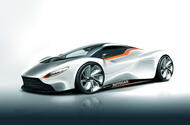 Set to take on the Ferrari 488 GTB and McLaren 720S, the supercar will follow in the footsteps of the mid-engined Valkyrie hypercar
Aston Martin is planning a new mid-engined supercar to launch in 2021 as a rival to the McLaren 720S and Ferrari 488 GTB. It will be the second mid-engined Aston model, following the limited-edition Valkyrie hypercar, due in 2019. 
Aston boss Andy Palmer said the launch of the Valkyrie (pictured below), the name of which was confirmed at the Geneva motor show, was important in establishing Aston as a credible maker of mid-engined models.
The Valkyrie, co-developed with Red Bull, also had importance in giving Aston a halo model to be proud of and introducing new technology, before then creating the DNA for the brand to go out and launch a more 'mainstream' supercar, Palmer added.
The new model will be built in Gaydon alongside the DB11, the Vantage, a replacement for which is coming later this year as a much more sporting model, and the Vanquish, which is to move into true front-engined supercar territory in 2018.
Also planned is the DBX SUV in 2019, to be built at Aston's new factory in St Athan, Wales, and two Lagonda models; a saloon is likely first, in 2020, followed by an SUV in 2022.
Palmer said the mid-engined V12 488 rival would bring true beauty to the segment and that function would follow form. Much of the aerodynamic work would be done underneath the car, as has been done on the Valkyrie under the watch of Red Bull's Adrian Newey. Palmer said it was also possible that Newey would have an involvement in the new supercar.
Development will be headed up by Max Szwaj, who recently joined Aston from Ferrari as chief technical officer. Szwaj brings with him years of experience at Ferrari of working on mid-engined supercars, and at Aston he will work closely with design chief Marek Reichman on the new supercar.
All of the new models will give Aston a range of seven models, each with a seven-year lifecycle and one year apart from each other, to allow the company to better manage development resources and ensure that the business is stable enough to counter falling interest in one segment or another over time.
The Valkyrie is not one of the seven models, instead living as a special limited-run model. All of its development has been virtual so far and the first prototypes will hit the road later this year. 
Source: Autocar Online