The supercar buyer's latest must-have accessory – and, sorry, I quite like it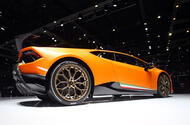 Could tyre paint be making a comeback?
And you thought tyres were all black…
Writing anything about the latest accessory for supercar buyers is a dangerous business, firstly because normal folk tend to get a bit envious when confronted with the fripperies richer folk spend their money on, and secondly because some of those fripperies tend to be so far off the scale of real-life they are borderline insulting.
One such example was unveiled at the recent Geneva motor show, and I have a nagging sensation of guilt because I actually quite like it. If you're particularly keen-eyed, you may have spotted them on the McLaren 720S and Lamborghini Huracán Performante – although I'll concede that both had other arresting qualities that mean this one may have passed you by.
Where tyres were once simply black and round, you'll notice that they are now emblazoned with a coloured stripe and the maker's name. That the maker is Pirelli – with whom McLaren and Lamborghini have an affiliation – should perhaps come as no surprise given their Formula 1 involvement and the similarity of the treatment between the sporting and road car tyres.
Creating road tyres that could hold a coloured pattern on the sidewall was no easy task, however. Where it's acceptable for an F1 tyre to degrade even over the short distance it is used, road car owners expect more, even though the tyre has a longer and in some ways harder life given that it spends days outside exposed to UV light, dust and dirt and being bumped off kerbs.
Unlike in F1, though, the colours don't indicate any changes to the tyre compounds, merely the tastes of the buyer. Standard colours are yellow, red, silver and white, but if anyone wants to break free of those constraints, there's the extra cost option of more than 3000 colour matches. Prices depend on tyre size and car type, but at the top end you're looking at €5000 for a set of P Zeros.
Buyers also have the option of personalising the area where the stripe is visible, although Pirelli won't compromise and allow you to tamper with the area where its name and the tyre name sit. Want to declare your unflinching love for a loved one on the wheel of your supercar? Don't laugh, because we all know there's a reality TV star waiting to do just that.
Don't, however, let any of this divert you from another underlying trend in the car industry that this highlights: personalisation. When a Vauxhall Insignia can be ordered in literally any colour you can think of (and pay for) it's hard to blame anyone for getting in on the thirst from owners to make their cars personal, let alone meeting the tastes of the super-wealthy.
Before launching these tyres, Pirelli surveyed its customer base of supercar owners. Despite what you may think about the varying personalities – and levels of extroversion – of McLaren, Lamborghini and Pagani drivers, there was a consensus among 70% of them that they fancied tyres with an individual touch. And what the customer wants, the customer gets. 
Pirelli expects to sell 10,000 personalised tyres, which is no small number, and it has perfected the application system so that the colouring once selected, can be applied in minutes. To many, they will just scream 'look at me' with even more intensity than buying a supercar already does, but to my mind, they add colour and character to what could easily have been overlooked as four circles of rubber.
Each to their own, I say. Although the comments section below this article will make for an interesting read, I'm sure.
Source: Autocar Online