Hyundai Kona name confirmed for new Nissan Juke rival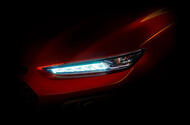 Fourth SUV in the brand's line-up is charged with making Hyundai Europe's leading automotive brand
The Hyundai Kona will rival the Nissan Juke when it launches in the third quarter of this year.
The fourth SUV in the brand's line-up is charged with taking Europe by storm to make Hyundai the biggest Asian car maker in the market by 2021.
A preview image of the car has been released, suggesting it'll have a new, more aggressive-looking design than Hyundai's current models.
The Kona is described by Hyundai as a 'true SUV', suggesting it'll have four-wheel drive and could share technology with the larger Hyundai Santa Fe.
This would contrast rivals such as the Juke and Kia Soul, which are marketed with a more urban focus.
As part of Hyundai's European push, the Kona, which gets its name from a district in Hawaii, will be followed by 29 more new model variants.
Source: Autocar Online