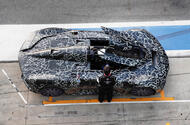 Techrules has been testing its EV model at Monza, Italy
Chinese automotive research company will reveal a production-ready version of its turbine-electric hypercar; more TREV models due later
The Techrules GT96 turbine-recharging electric supercar will make its world debut in production-ready form at the 2017 Geneva motor show, one year after a concept version was first shown to the public.
First images of the final car have been released following a testing stint at Italy's Monza circuit. The images show a camouflaged development car with a central driving position and fighter jet-style canopy roof.
The Chinese manufaturer's model will use Turbine-Recharging Electric Vehicle (TREV) technology, a range-extending micro-turbine system which generates electricity to charge the battery pack. The battery then powers the motors that drive the wheels.
The car has been designed by Fabrizio and Giorgetto Giugiaro and is said to provide different configurations for the interior around the centrally-positioned driver. The chassis has been engineered by international motorsport specialist L. M. Gianetti.
Other design features include laser headlights and reversing LEDs with an integrated rear-view cameras. Techrules said this technology will be used 'across a family of models' in the coming years.
The hypercar was previewed last year with the GT96 concept. That car featured plug-in charging capability for markets with access to charging networks. If it retains the set-up of the concept, the 2017 model will feature a lightweight carbonfibre monocoque design and be powered by six electric traction motors, each weighing 13kg. The front wheels will be driven by individual single motors, while the rear wheels will be driven by a pair to each corner. Peak combined power output of the concept was 1030bhp, and it could sprint from 0-60mph in 2.5sec and onto a top speed of 217mph. Electric-only range was projected to be up to 93 miles, and the total range to be more than 1200 miles from 80 litres of aviation kerosene – or a fuel with the equivalent calorific value – using the TREV range extender.
The concept's powerplant featured a micro-turbine generator, inspired by aviation technology, which drove a generator and charged the battery. Unlike many previous turbine powertrain systems, there was no direct electrical feed from the generator to the electric motors; the TREV system is purely a series hybrid range extender charger. Using the system, the battery pack was claimed to be charged to its maximum in 40 minutes.
The GT96 was first presented in two forms at the 2016 Geneva motor show, with both based on a mid-engine electric hypercar design that features two seats and all-wheel drive. Design one: AT96 'Aviation Turbine' was a track-focused model, with a turbine set-up that runs on a liquid fuel, such as aviation kerosene, diesel or gasoline. Design two: GT96 'Gas Turbine' was designed to run on a gaseous fuel such as biogas and natural gas and is styled as a road-going hypercar.
Techrules CTO Matthew Jin said: "We have been working tirelessly with the Giugiaro team on the design of the GT96 for many months, and it will be a proud moment when we present the production design of China's first supercar in Geneva in March. Our dream of seeing turbine-recharging electric vehicles on the roads is getting closer to reality."
Techrules' engineering and production partner L.M. Gianetti will handle production of up to 25 units per year beginning in late 2017 at its facility in Turin, Italy. The track model will be made first, with a fully homologated road version and other yet-to-be-revealed TREV cars in other market segments set to follow in later years.
Jin said earlier this year: "Because turbines have always been a very inefficient way to convert chemical energy into useful wheel turning mechanical energy, only a few have tried to use a turbine in the powertrain system, and none have ever succeeded commercially.
"But, with electric vehicles, an electric motor is used to drive the wheels, which effectively frees the combustion engine to exclusively convert chemical energy into mechanical energy and finally into electric energy. This is a major breakthrough, making it possible for us to use the highly efficient turbine engine as a superb range extender on our vehicles."
Beijing-based Techrules claims its TREV system is a sealed-for-life powertrain solution, which requires almost zero maintenance throughout the ownership cycle, with the only service item being the air intake filter.
Source: Autocar Online