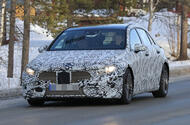 Next-gen hatch will get new, larger underpinnings to offer more interior space; AMG A45 model will gain 24bhp
In 2018, the Mercedes A-Class will become larger and sharper as it ups its game in the fight against the BMW 1 Series.
The next-generation model will use a longer wheelbase and feature a roofline that extends further back into a more vertically-angled tailgate than today's model.
Both cabin space and boot capacity will grow as a result, making the future model more practical. Tweaked looks will give the car a more aggressive demeanour.
Sources say the larger interior will also feature plusher materials and Mercedes' latest infotainment system, with top-spec models likely getting a widescreen display.
The fit and finish of the cabin will also be improved, with strong competition from Audi and its Virtual Cockpit dash layout – which will soon be offered in smaller models – setting the bar very high in the compact sector.
The new A-Class will gain an updated range of turbocharged four-cylinder petrol and diesel engines, and there's also a chance hybrid technology will be integrated into the range later on.
This would come as part of Mercedes's push for a larger electric range, which currently only features EV versions of its B-Class and Smart models, but will soon gain an SUV, as seen testing earlier this year.
At the other end of the line-up, the range-topping AMG A45 version of the new A-Class is expected to produce close to 400bhp.
Today's version of the four-wheel drive hot hatch gets 376bhp from its turbocharged 2.0-litre engine. Its next-generation rivals, including the 2017 Audi RS3, all look set to beat that figure.
Source: Autocar Online