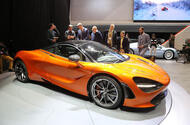 High-tech, lightweight new Super Series model revealed as 650S replacement, on sale in May
The McLaren 720S will be a faster, lighter, roomier, more aerodynamic Super Series model than its predecessor, the 650S, with the brand promising it will "redefine expectations of supercar excellence".
The car's debut at the Geneva motor show comes just weeks after the Woking firm, which is increasingly seen as a serious threat to Ferrari's supercar supremacy, announced a doubling of its 2016 volume and that its total sales in five years had passed 10,000 units.
The 720S will replace the 650S as McLaren's new core model and is the first of 15 new-generation McLarens, half of which will be hybrids, promised by 2022 under CEO Mike Flewitt's ambitious Track 22 development plan. The new model is McLaren Automotive's first replacement for an existing model since opening for business in 2011 and putting its first car, the 12C (which became the 650S), into production in 2012. The 720S obeys all existing McLaren design rules. It is a two-seat supercar based on an all-carbonfibre tub, with aluminium space frames carrying the front and rear suspension, and it is powered by a twin turbocharged V8. However, within that envelope, it has been redesigned and updated in every detail. The exterior introduces a new 'double skin' door construction that eliminates the need for the prominent side air scoops previously thought essential in supercar design, while the engine grows to 4.0 litres, up from 3.8-litres, and now produces 710bhp.
McLaren has already begun taking orders, with the first cars due to be delivered in May. The entry price in the UK will be £207,900. 
All 400 units of the Launch Edition version have already been sold. McLaren expects to sell 1200 720S models this year including the 400 Launch Edition version and 1500 units from next year.
BODY AND CHASSIS
McLaren has further developed its carbonfibre chassis tub and upper structure, taking lessons from previous models, including the P1. Now dubbed Monocage II, the structure is cited by McLaren's executive director of product development, Mark Vinnels, as the key to the 720S's 1283kg dry weight, which undercuts all competitors and beats that of its predecessor by 18kg.
Monocage II's stiffness has allowed McLaren's designers to give the 720S remarkably thin A-pillars, a deep windscreen, B-pillars set well back and slim, glazed C-pillars, all of which contribute to first-class all-round visibility for the driver.
The body panels are made either of carbonfibre or superformed aluminium, and their novel shape plays a key role in the 720S's impressive aerodynamic performance. Low down at the front there are anti-lift aero blades reminiscent of those on the P1, while ultra-compact LED headlights fit into frontal 'eye sockets' that allow room for vents to feed the air conditioning and oil cooler.
The body sides incorporate channels, formed by two skins and flowing past the dihedral doors, so cooling air can be directed along the body into the engine bay, uninterrupted by turbulence and resulting in a 15% improvement in cooling airflow. On the outer, lower part of the doors, there are F1-inspired blades that direct air away from the front wheel arches, assisting downforce and cutting drag. A big under-body diffuser at the rear sweeps up from the 720S's flat floor almost to its rear wing, where the two elements frame the ultra-thin LED tail-lights.
Because the top of the 720S's engine is a remarkable 120mm lower than that of the 650S, the car also has a low, teardrop-shaped engine cover that allows an uninterrupted flow of air over the roof to the hydraulically actuated rear wing, which has a DRS drag reduction setting for optimal straight-line performance, an Aero setting for downforce in corners and a Brake setting (which sets the wing a steep 56deg from the horizontal) to increase drag and improve chassis balance under heavy braking. The result, says McLaren, is that the wing has 30% more downforce and its aero efficiency (the ratio of downforce to drag) is doubled.
POWERTRAIN
McLaren claims "new heights of performance" from its expanded turbo V8, now reengineered for a capacity of 3994cc, thanks to a 3.6mm lengthening of its stroke. The engine also has lighter pistons and conrods and a stiffer, lightened crank, plus twin-scroll turbochargers with faster-spooling turbines, capable of spinning at 145,000rpm, and electronically controlled wastegates. In total, 41% of the engine's components are new.
A cast aluminium air intake system, visible through the mesh engine cover, feeds extra air to the more potent engine that now uses two injectors per cylinder. But rather than simply pumping in more fuel, the improved injection system gives more accurate metering, which helps to cut CO2 emissions by around 10%, to a class-leading 249g/km. Combined economy falls by a similar percentage to 26.4mpg.
The 720S's peak output of 710bhp is produced at 7000rpm, while maximum torque of 568lb ft is delivered at 5500rpm. The engine, longitudinally mounted behind the occupants, drives as before through a seven-speed dual-clutch automatic gearbox mounted end-on to the engine, but McLaren says further refinement of its control software brings smoother gearchanges at low speeds and faster, sharper shifts at higher speeds. The launch control has also been improved, and as before, there are three driving modes — Comfort, Sport and Track — that govern both engine and dynamics.
PERFORMANCE
The chassis weight savings, allied to other reductions in mass, including 2kg from the brakes, 3kg from the electrics and 1.5kg from the airboxes, contribute as much to the 720S's enhanced performance as its 11% power increase. The power-to-weight ratio is now 553bhp per tonne (up 15%) and, according to McLaren, beats the best in the segment.
As a result, McLaren claims a "crushing" 0-60mph time of just 2.8sec, 0-124mph in 7.8sec and a top speed of 212mph. The 720S will also dispatch a standing quarter-mile in 10.3sec, representing a blistering performance for a pure road car. To accompany the performance, the 720S has a carefully engineered engine note which can be further enhanced with an optional, louder, sports exhaust system.
Despite its performance potential, McLaren is adamant that its new car is as easily handled by ordinary drivers as it is by experts, with throttle response calibrated to provide "the optimum blend of immediate reaction and progressive comfort".
SUSPENSION, STEERING AND BRAKES
Although only five years old, McLaren's all-independent system of front and rear double wishbones has been completely re-engineered, both to allow wheel geometry changes and, thanks to a redesign of the uprights and wishbones, to cut unsprung mass by 16kg.
The 720S has an updated version of the Proactive chassis control electronics used by the 650S. The system features hydraulically interlinked dampers at each corner that remove the need for anti-roll bars, but the big improvement for the 720S's system, which is dubbed PCCII, results from new software developed during a six-year collaboration with the University of Cambridge and using sophisticated information gathered by 12 new sensors and accelerometers. The result is even better contact between the tyres and the road surface.
The system can assess conditions and adjust the suspension every five milliseconds. It also includes a Variable Drift function, which allows you to slide the car without losing control, and McLaren Brake Steer, pioneered in F1, which enhances agility in corners and traction out of them by braking separate wheels. McLaren engineers have retained electro-hydraulic steering for the 720S, despite rivals' adoption of electric only systems, because they still feel it gives superior "clarity of feel".
Brakes are large, ventilated carbon-ceramic discs and the tyres are specially developed Pirelli P Zeros, 245/35 ZR19s at the front (up from the 650S's 235s) and 305/30 ZR20s at the rear. McLaren claims a 6% increase in mechanical grip, which is about the same advantage as fitting track-focused Pirelli Corsas to a 650S.
INTERIOR
Although the 720S closely follows the outgoing 650S in its major dimensions, there are differences between them. The thin pillars, the depth of the windscreen and the all-round glass give a commanding view to all points that modern supercar drivers will find surprising. The redesigned interior surfaces have been 'pushed away' from the occupants as much as possible, to further enhance the feeling of space.
Unlock the door and various instrument and courtesy lights go through a welcome sequence as the mirrors unfold. Opening the door also triggers an elaborate sequence on the upright TFT screen which changes its configuration according to driving mode. The driver can also 'declutter' the instruments, for example when on a track, via a special Slim mode. There's a central 8.0in infotainment screen on the centre console, with ventilation settings carried along the bottom. The layout of switches, most of which are machined from aluminium, is simple.
Standard cabin trim and seats are plush but, as with previous models, colour and trim material upgrades are available. Emilio Scervo, chief engineer of the 720S, said: "We've done our utmost to exceed the expectations of demanding supercar owners in every area, but we're especially proud of the driving environment. It's light and airy, it's comfortable and sophisticated — and we think it beats any rival."
McLaren's road car history
There are three distinct phases of McLaren road car manufacture: Bruce McLaren's racing era that began in 1963 and during which he built an unfinished race-derived road car, the McLaren F1 era that also produced the SLR, which ended its production run in 2009, and the current McLaren Automotive, which began in 2010 and led to the launch a year later of the MP4-12C, soon shortened to 12C.
The 12C was widely praised for its dynamics and sophisticated design, which included a onepiece carbonfibre tub, but it encountered early teething troubles, mostly with infotainment and electronic control systems. The problems were rapidly brought to heel by current CEO Mike Flewitt, who won considerable plaudits from early owners by providing many of them with free upgrades. The company's reputation and progress accelerated, especially when it launched the £900,000 P1 flagship that matches or exceeds Ferrari's even more expensive LaFerrari.
Now the firm is raising the stakes with the 720S, its first replacement for a new-era model. Flewitt and his team expect it to take McLaren's production to around 4500 cars a year, a total they claim have no wish to exceed.
Stay up to date with the latest from the Geneva motor show here:
Source: Autocar Online