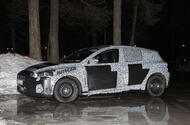 Overall dimensions looks unchanged but a longer wheelbase should provide passengers with more legroom; it'll come with three and four-cylinder engines
The next Ford Focus is ramping up for a 2019 launch, with engineers currently testing late-build prototypes. 
Spotted by Autocar photographers, these images show the fourth-generation model's real skin beneath a disguise being tested in arctic conditions. Such testing only takes place when the car's look and specification are mature, to prove that the finished model works well under extreme conditions and to fine-tune its braking and stability electronics.
The new Focus, set to be revealed in early 2018 ahead of a launch the following year, will follow the same evolutionary path as the recently unveiled Fiesta, using Ford's highly flexible global C-class platform. It will only come as a five-door saloon: Ford is keeping its development funds for making more SUVs, which European president Jim Farley believes are turning into "preferred family cars". 
The Focus programme's similarity to the Fiesta's evolution is no surprise since the project is now under the management of Ford's small-car guru, Darren Palmer, whose team recently delivered the Fiesta, the Ka+ and a dramatically improved Ecosport B-segment SUV.
The new Focus is unlikely to grow in length or width, but is tipped to have about 50mm more wheelbase to match its rivals for rear legroom. It will also deliver weight savings around 50kg, model for model, though precise figures are still being calculated. Efficiency will be high on the agenda: Ford will undoubtedly improve on the current car's aerodynamics. It will also launch a new all-electric as one of one of a dozen electric cars promised last year by European chief Farley. The company has also been experimenting with hybrid models, already successful in its US line-up, though there are no sure signs yet of a four generation Focus hybrid.
The new mainstreamer's engine range will depend heavily on the successful 1.0-litre Ecoboost three-cylinder petrol engine — available in 99, 123 and 138bhp versions — and is likely also to offer 1.5-litre and 2.0-litre petrol units in several power outputs to power its ST-line and "full fat" ST versions. The staple diesel will again be the 1.5 TDCi, though a 2.0-litre diesel may still be offered for ST performance models. Ford has been talking nine- and 10-speed automatics in America for several years but is likely for the time being to stick with its the six-speed Powershift twin-clutch gearbox as the European automatic option. 
One certainty is that Ford will launch a high-riding Focus Active, along lines established by the recently revealed Fiesta Active, to take advantage of burgeoning demand for "lifestyle" models. There will be several models: base cars will have a regular front-wheel-drive system, but there is likely to be an optional four-wheel drive utilising hardware from the existing Kuga SUV. 
Suggestions that there would be no replacement for the current Focus RS appear wide of the mark: Ford sources suggest there may be "at least one more" version of the highly rated 165mph sports hatch in the company's armoury. Ford chief Farley is known to be keen on such models, which he says do much to boost the image and desirability of the whole Ford range.
Inside, the new Focus will be more carefully packaged than ever, to offer enhanced passenger space in key areas even though it is no bigger externally. The décor will be simpler and more stylish: the company's designers privately admit they "overdelivered" on dashboard complexity in recent Fiesta and Focus cabins. The fascia, in particular, will be simpler and less claustrophobic, with more functions activated via a prominent central touch-screen.
Ford is still deciding launch details for its fourth-generation Focus. It showed the third-generation model, earmarked for a 2011 launch, at the 2010 Detroit motor show at the beginning of that year, evidently to stress the car's global credentials and pay homage to the firm's hometown. No-one inside the Blue Oval's HQ will yet confirm the car's arrival date, but the same could very well happen again, which would mean a reveal at the 2018 Detroit motor show. 
Source: Autocar Online